روش قیمت گذاری محصولات صنعتی
تصميمات قيمت گذاري محصولات صنعتي هسته اصلي هر برنامه تجاري است و تاثير مستقيمي روي استراتژي بازاريابي شركت خواهد داشت. تمامي سازمانها اعم از انتفاعي و يا غيرانتفاعي مجبورند براي كالاها و يا خدمات خود قيمت تعيين كنند، كه اين موضوع تحت تاثير عوامل داخلي و يا خارجي شركت است. عوامل محيط داخلي شركت شامل اهداف، خط‌مشي، تركيب عناصر بازاريابي و هزينه‌هاي شركت هستند و از جمله عوامل محيطي مي‌توان به ماهيت بازار و تقاضا، شرايط رقابتي و واسطه‌ها اشاره كرد. وقتي مصرف‌كننده كالايي را مي‌خرد، درواقع ارزشي را با ارزش ديگري مبادله مي‌كند. ارزشي كه از دست مي‌دهد قيمتي است كه براي كالا مي‌پردازد و ارزشي كه به‌دست مي‌آورد مزاياي ناشي از داشتن كالاست.
امروزه توسعه يك استراتژي قيمت‌گذاري مناسب يك وظيفه مشكل و درعين حال اساسي براي مديران شركتهاي صنعتي است و عدم موفقيت در درك كامل از تصميمات درست قيمت‌گذاري به از دست‌دادن فرصتهاي سودآور در بازار خواهد انجاميد. قيمت‌گذاري يك فرايند چندبعدي است كه متاثر از كالا، سطح حاشيه سود و روابط با مشتري است.
در اين مقاله تلاش مي‌شود تا ديدگاهي براي مديران فراهم شود كه در آن به اهميت توسعه برنامه قيمت‌گذاري مناسب پي‌برند و از تاثيرات اطلاعات بر قيمت‌گذاري درست و بهينه مطلع شوند.
قيمتها همه‌جا هستند. از دانشجويان شهريه دريافت مي‌شود. شركت هواپيمايي از مسافران وجهي به نام كرايه دريافت مي‌كند. براي عبور از بزرگراهها عوارض پرداخت مي‌كنيم. براي پرداخت قبوض منزل نرخ معين شده را بايد بپردازيم. اما قيمت فروش چه مبلغي بايد باشد؟ اين سوال با اين واقعيت مطابقت دارد كه قيمتها هميشه آزمايشي هستند. يك قيمت به‌طور ساده يك پيشنهاد يا تجربه‌اي براي آزمايش نبض بازار است. اگر مشتريان قبول كنند مناسب است و اگر پذيرفته نشود به‌سرعت تغيير خواهد كرد (كاتلر، فيليپ، اصول بازاريابي – چاپ دهم).
قيمت، ميزان فايده‌اي است كه مصرف‌كننده براي مزاياي حاصل از داشتن و يا استفاده از كالا پرداخت مي‌كند (آرمسترانگ، گري، مقاله قيمت‌گذاري كالاهاي استراتژيك، 2003). قيمت تنها عنصر در آميخته‌هاي بازاريابي است كه درآمدزاست و ساير عناصر هزينه‌زا هستند. قيمت و محصول ارتباط نزديكي با يكديگر دارند. براي مثال قيمتي كه بازاريابان روي محصول مي‌گذارند مقدار پولي است كه براي توليد آن محصول هزينه خواهند كرد و همچنين قيمت با برداشت مشتريان از خصوصيات و مزاياي محصول ارتباط مستقيم دارد. تعيين قيمت در بازاريابي صنعتي مقوله‌اي بسيار بحث برانگيز و پيچيده است. اگر يك شركت و مديرانش بخواهند در بازار خود موفق باشند، بايد درك جامعي از ماهيت فعاليت رقبا و استراتژي رقابتي آنها داشته باشند. از مشكلاتي كه فراروي شركتها قرار دارند، مي‌توان به توسعه سازمان، ابداع محصولات جديد، پيش‌بيني بازارها، توسعه روابط پايدار با مشتريان، كنترل هزينه‌ها، كيفيت،… اشاره كرد و لازم است كه مدير براي هركدام از اين مشكلات ديدگاه استراتژيك و برنامه قابل اجرا داشته باشد. شايد بهتر باشد كه قبل از قيمت و مقوله قيمت و مقوله قيمت‌گذاري در بازارهاي صنعتي به ويژگيهاي بازار صنعتي در مقابل بازارهاي مصرفي پرداخته شود:
ويژگي بازار: شامل اندازه ( در مصرفي بزرگ و در صنعتي كوچك است) ماهيت رقابت (در مصرفي رقابتي و در صنعتي انحصاري است).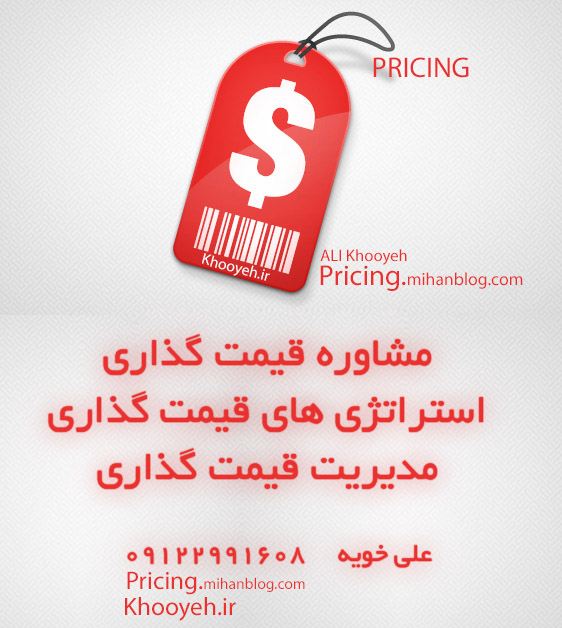 ويژگي محصول: تحويل به‌ موقع كالا، دسترسي، خدمات و فرايند خريد در صنعتي مهم‌تر از مصرفي است.
ويژگيهاي خريداران: خريد در صنعتي عقلايي صورت مي‌گيرد و در مصرفي روانشناختي است.
ويژگي كانال توزيع: در صنعتي كوتاهتر از مصرفي است.
ويژگي قيمت: تفاوت در استراتژي قيمت‌گذاري بازارهاي صنعتي براساس ليست قيمت، مزايده، مذاكرات و چانه‌زني است.
متاسفانه يكي از مواردي كه هنگام برنامه‌ريزي سالانه و در زمان اجرا به آن توجه نمي‌شود. مقوله قيمت‌گذاري محصولات صنعتي است. دليل اين امر اين است كه در بازارهاي صنعتي معمولا قيمت در ارتباط با مشتري تعيين مي‌شود. هميشه مديران صنعتي از چالشي‌بودن قيمت‌گذاري محصولات صنعتي گله و شكايت دارند و آن را فرصتي براي افزايش سود نمي‌دانند بلكه آن را كاري كسالت‌آور تلقي مي‌كنند. مديران شركتها از قيمت‌گذاري گلايه‌مند هستند چرا كه كنترلي بر قيمت‌گذاري كالاهاي خود ندارند و بايد در چارچوب موجود حركت كنند. آنها مي‌گويند از آنجا كه قيمت در بازار تعيين مي‌شود، نمي‌توانند بر قيمت مناسب و مورد علاقه خود كنترل داشته باشند و مجبورند كه بااين موضوع كنار بيايند.
اما سوال اصلي اين است كه مديران تجاري و صنعتي چه كاري بايد انجام دهند تا قيمت‌گذاري، به شكل فرصت سودآور براي آنها درآيد؟ چرا بعضي از مديران نسبت به مساله قيمت‌گذاري بي‌تفاوتند؟ موانع سازماني سد راه قيمت‌گذاري در شركتها چيست؟ شركتهاي صنعتي در زمينه قيمت‌گذاري بين‌المللي با چه مواردي روبرو هستند؟ نقش اينترنت در طرح قيمتها چيست؟ ارائه پاسخي ساده به اين سوالات آسان نيست ولي يك مدير بازاريابي صنعتي مي‌بايست ديد كاملي در مورد چالشها و فرصتهاي موجود و نهفته در قيمت‌گذاري داشته باشد. براي مقابله با تهديدات و بهره‌گيري از فرصتهايي كه مديران صنعتي در ارتباط با مقوله قيمت‌گذاري با آن روبرو هستند، توجه به نكات زير الزامي است:
زنجيره عرضه مناسب به‌عنوان فرصتي براي كاهش هزينه‌ها و افزايش حاشيه سود محصول
سيستم زنجيره عرضه موجودي سالها به‌عنوان كانال توزيع ساده محسوب مي‌شد. از اين نظر تمركز مديريت شركت بر كارآمدساختن هرچه بيشتر تمامي كانال توزيع شركت به‌صورت اثربخش است. هرصنعت به‌دنبال كسب سود بيشتر است و مي‌خواهد قيمتهاي خود را مستقل از ديگران تعيين كند. اما با پيدايش مفهوم مديريت عرضه، ديدگاه مديران صنعتي تغيير پيدا كرده و به سمت بينشي مفيد برمبناي همكاري بين شركتها تبديل شده است. اين امر فرصتي موثر و مفيد براي مديريت شركت در اجراي يك استراتژي قيمت‌گذاري خلاقانه و كسب حداكثر سود به‌شمار مي‌آيد.
در اين ميان دو محقق به‌نامهاي «كريستوفر» و «گاتورنا» در مقاله خود به نام «مديريت هزينه زنجيره عرضه و قيمت‌گذاري بر مبناي ارزش» تاكيد كردند كه واگذاري برخي از امور به بيرون از سازمان كه باعث مي‌شود شركت كنترل كمتري برروي هزينه‌هاي خود داشته باشد، ممكن است حاشيه سود شركتها را تهديد كند. آنها دريافتند كه امروزه رقابت قيمتي فقط در بين شركتها صورت نمي‌گيرد بلكه جنگ اصلي بين عرضه‌كنندگان است. بررسي صحيح هزينه‌ها بايد در طراحي قيمتها در تمامي فرايند اجرا شود، زيرا تمامي هزينه‌ها در بحث تعيين قيمت در هزينه تمام‌شده محصول در بازار نهايي منعكس مي‌شود.
ديگر محققان معتقدند عقد قرارداد با عرضه‌كننده، باوجود كاهش كنترل شركت مي‌تواند منجر به كاهش هزينه‌ها در زنجيره عرضه شده و در نهايت هزينه‌هاي شركت را كاهش دهد و متعاقب اين مساله شركت قادر خواهد بود به‌وسيله قيمت مناسب محصول، جايگاه مناسب را در بازار كسب كند. به‌زعم صاحبنظران، توليدكنندگان بايد هزينه‌هاي خود را كاهش دهند و تا زماني كه كنترل هزينه مناسبي در زنجيره عرضه وجود نداشته باشد، درك اين موضوع كه كاهش هزينه‌ها مي‌تواند به رقابت منجر شود نيز ميسر نخواهد شد. (كريستوفر 2005)
استراتژي ديگر براي كسب سود خالص بيشتر، همبستگي زنجيره عرضه با نيازهاي اساسي مشتريان است كه در نتيجه ارزش و قيمت‌گذاري ثابت‌تري به‌دست مي‌آيد. اين امر به‌وسيله مديريت صحيح طراحي زنجيره عرضه به‌منظور متناسب‌كردن احتياجات اساسي مشتريان مثل زمان انتقال محصول به مشتري نهايي، طراحي، بسته‌بندي، برنامه انبارداري، مديريت حمل‌ونقل دروني و بروني و برنامه‌هاي خريد است كه يك شركت را قادر مي‌سازد قيمتهايش را براساس ارزش محسوسي كه طي زنجيره عرضه به‌دست آورده است مشخص كند.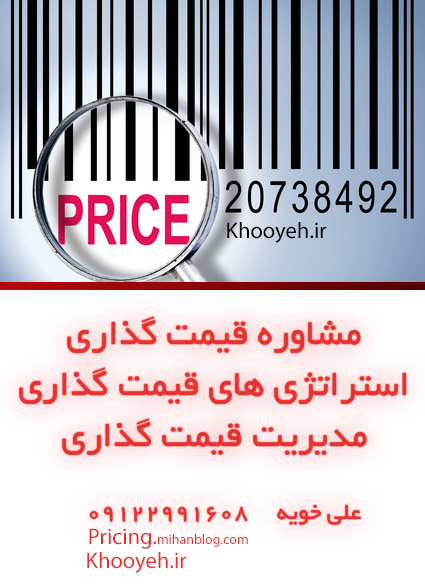 1 – شناسايي موانع قيمت‌گذاري اثربخش
يك بعد مهم در قيمت‌گذاري صنعتي در شركتها، اثري است كه سيستم‌هاي داخلي آنها در تعيين قيمتها دارند. اين امر در هماهنگي يا عدم هماهنگي زيرسيستمهاي سازمان عيان است. سه محقق به‌نام لانچيوني، شاو و اسميت (2005) به‌اين نتيجه‌گيري رسيدند كه استراتژي قيمت‌گذاري يك سازمان ناشي از آن چيزي است كه مديران مالي سازمان برنامه‌ريزي مي‌كنند. براي مثال آنها اين يافته را مطرح كردند كه فقط 5 درصد كاهش قيمت يك محصول صنعتي مي‌تواند تا 22 درصد سود بيشتر را نصيب اين شركتها كند. (لانچيوني 2005) آنها معتقدند كه قيمت‌گذاري بسيار مشكل است، زيرا بسياري از عوامل محيطي نظير عوامل سياسي، اقتصادي بر آن موثر است. در تحقيقي ديگر كه اين سه محقق درباره شركتهاي رهبر در بازار آمريكا انجام دادند به اين نتيجه رسيدند كه در سازمانها، واحدي كه مانع اصلي قيمت‌گذاري است دواير مالي و حسابداري سازمان است.
2 – استراتژي قيمت‌گذاري بين‌المللي
در زمينه استراتژي قيمت‌گذاري بين‌المللي، مديران صنعتي عموما با طيف گسترده‌اي از عوامل داخلي و خارجي سازمان مواجه هستند و نگراني اصلي شركت اين است كه چگونه مديران با اين عوامل كنار مي آيند و اثرنهايي آنها را مشخص مي‌كنند. مساله اساسي در طراحي يك استراتژي قيمت‌گذاري بين‌المللي موثر اين است كه آنها بايد تفاوتهاي فرهنگي، زباني، سياسي و اقتصادي و قانوني هركدام از شركتها و بازارها را مدنظر داشته باشند. محققان معتقدند كه يك استراتژي قيمت‌گذاري بين‌المللي بايد كاهش هزينه را به‌عنوان ظرفيتي براي به‌حداكثر رسانيدن سود به‌دست آمده تلقي كند. تاثيرات بيروني قيمت‌گذاري بين‌المللي شامل ميزان توجه خريداران به قيمتها و موانع ورود و خريد و توزيع و گرايشهاي اقتصادي هركشور است. توازني كه مديريت بازاريابي صنعتي روي هرگروه از عوامل در زمينه توسعه و اجراي استراتژي قيمت‌گذاري بين‌المللي قرار مي‌دهد بسيار مهم است. نتيجه تحقيقات نشان مي‌دهد كه تلاش جهت ارزيابي درست قيمت، منجر به راهنمايي مديران براي تعيين قيمت مناسب و سودآور مي‌شود. عوامل دروني خاص كه در اين تحقيق بررسي شدند شامل ظرفيت مورد استفاده شركت، نرخ سهم بازار و ساختار هزينه داخلي، بوده است و از جمله عوامل بيروني نيز مي‌توان به توجه خريداران به قيمتهاي شركت اشاره كرد.
3 – تبادل اطلاعات در اينترنت و قيمت‌گذاري
در اين قسمت مشخص مي‌شود كه چگونه افزايش تبادل اطلاعات مي‌تواند استراتژي قيمت‌گذاري را اثربخش كند. تحقيقات نشان مي‌دهد كه افزايش مشتريان يك مركز درماني به سبب كسب اطلاعات بيشتر از مشتريان نهايي مركز در مورد نحوه ارائه خدمات و برنامه‌ريزي جهت كسب رضايت آنها بوده است. گسترش همه‌جانبه بازار به واسطه مشتري‌مداري است و سنجش درست ميزان عرضه و تقاضا در بازار و پيش‌بيني درست رفتار مصرف‌كنندگان نيز ابزار رقابت در بازار است. در اين مدل حق انتخاب با مصرف‌كننده است و اطلاعات لازم درخصوص قيمت به‌صورت شفاف در اختيار او قرار مي‌گيرد. دسترسي به اطلاعات لازم توسط مصرف‌كنندگان در بازاريابي صنعتي پديده جديدي است كه تاثير چشمگيري بر قيمتها و هزينه‌ها دارد.
4 – نمايشگاه معكوس اينترنتي و قيمت‌گذاري
بااستفاده روبه افزايش اينترنت از دهه‌هاي 1990 تاكنون فرايند حراجي و يا همان نمايشگاه معكوس به‌طرز چشمگيري افزايش يافته است. نتايج يك تحقيق نشان مي‌دهد كه پژوهشگران به يك نظر واحد درباره توازن بين ارزش و سود كمتر، در مقابل از دست دادن روابط بلندمدت و پايدار با عرضه‌كنندگان دست يافتند. ولي هنوز تاكنون تحولي چشمگير و كامل در حوزه اقتصاد و مديريت رخ نداده است كه راه را براي طراحي دوستانه يك حراجي معكوس باز كند.
در نمايشگاه معكوس خريدار درخواست قيمتش را كه در آن جزئيات نيازمنديهاي او مشخص است به بازار ارائه مي‌كند. فروشندگان نيز قيمت پيشنهادي را كه شامل قيمت موردنظر و ديگر جزئيات مثل روشهاي پيشنهادي را آماده و ارائه مي‌كنند. معمولا خريداران براي انتخاب كالاهاي مختلف چندين معيار مانند قيمت، كيفيت، تاريخ تحويل و نحوه پرداخت دارند. در حال حاضر اين مراحل توسط اينترنت صورت مي‌گيرد. فرايند حراجي اينترنتي تفاوت زيادي با فرايند خريد كالا در بازار دارد. مثلا قابليت دسترسي به خريداران بيشتر از طريق كاهش زمان سفارش و دريافت كالاي صنعتي و كاهش هزينه‌هاي حمل ونقل. ايده امكان طراحي يك حراجي اينترنتي براي سرمايه‌گذار بلندمدت از طريق كمك مالي به شركا و يا پرداخت مقداري وجه نقدي به افرادي كه در مناقصه برنده نشده‌اند، از جمله راهكارهايي است كه به روابط بهتر و بلندمدت‌تر با مشتريان صنعتي منجر خواهد شد.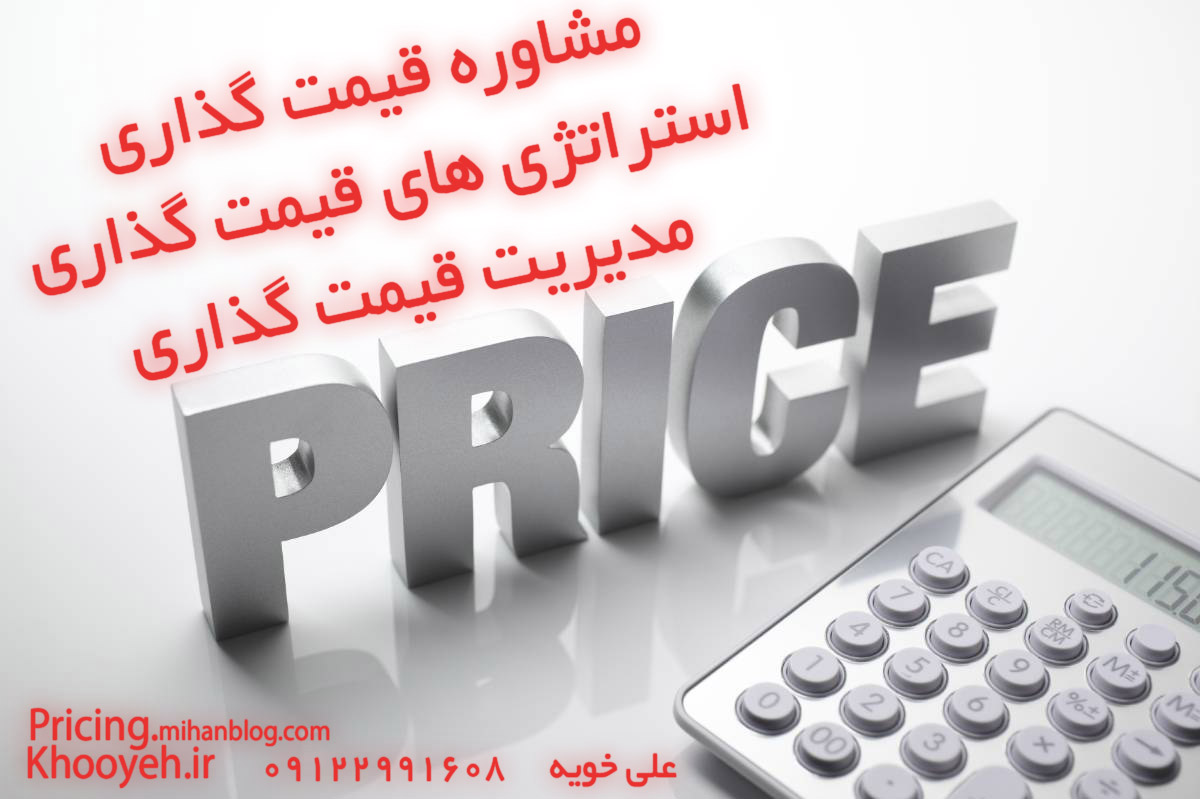 5 – برنامه‌ريزي قيمت‌گذاري استراتژيك
برنامه‌ريزي تعيين قيمت يكي از موضوعاتي است كه در بازاريابي صنعتي كمتر مورد توجه قرار گرفته است. به‌طور سنتي قبل از هرگونه توجهي به قيمت‌گذاري، تاكيد روي توسعه محصول، استراتژي تبليغات و شكل كانال توزيع است كه نتيجه نامطلوب اين امر، تعيين قيمت، بدون درنظرگرفتن عوامل هزينه‌زايي كه در تصميمات نهايي موثرند، است. توسعه و ايجاد يك طرح برنامه‌ريزي قيمت نيازمند اين است كه يك شركت اهداف اجرايي و دست‌يافتني مشخص شده و يا يك روش عملكرد مناسب و مطلوب، و يا يك استراتژي عملياتي و در نهايت روشهاي بازبيني و كنترل برروي فرايند توليد محصولات خود داشته باشد و برنامه با ديگر فعاليتهاي درگير در تعيين قيمت بازار هماهنگ باشد كه شامل تجزيه و تحليل فرصتهاي بازار، تحقيق و انتخاب بازار نهايي، طراحي استراتژي بازاريابي و سازماندهي است. اما هميشه طراحي يك برنامه تعيين قيمت كار ساده‌اي نيست.
دو مشكل اصلي در عدم ايجاد يك برنامه قيمت‌گذاري مناسب عبارتند از:
1 – نبود درك اين موضوع كه قيمت‌گذاري به‌شدت به ديگر آميخته‌هاي بازاريابي وابسته است.
2 – مشكل بودن اجراي يك برنامه قيمت‌گذاري مناسب.
توسعه برنامه قيمت‌گذاري، مي‌تواند به‌عنوان يك هدف در هر سازمان مدنظر باشد. به‌طور كلي يك برنامه قيمت‌گذاري بايد شامل موارد زير باشد:
1 – استراتژي قيمت‌گذاري ويژه هر شركت و محصولات آن شركت.
2 – آناليز وضعيت قيمتهاي رايج بازار و وضعيت رقبا و قيمتهاي آنها.
3 – تجزيه و تحليل نقاط ضعف و قوت و همچنين فرصتها و تهديدات از بازارهايي كه شركت در آن فعاليت مي‌كند.
4 – استراتژي قيمت‌گذاري كه شركت معمولا در بازار هدف خود استفاده مي‌كند.
5 – مكانيزم نظارتي كه بتوان در نشان‌دادن نتايج موردانتظار در دوره زماني موردنظر شركت، از آن هم استفاده كرد.
6 – برنامه‌هاي قيمت‌گذاري بايد در جهت دست‌يافتن به اهداف قيمت‌گذاري مناسب شركت باشد.
7 – اهداف قيمت‌گذاري بايد بر پايه استراتژي قيمت‌گذاري شركت تعيين شود.

برنامه قيمت‌گذاري
يك مدل برنامه قيمت‌گذاري براي گسترش و توسعه نيازمند همكاري با قسمتهاي مختلفي از شركت است. سه پيش‌نياز برنامه قيمت‌گذاري مناسب وجود عواملي به‌شرح زير در سازمان است:
داشتن هدف اصلي و درك صحيح از مشتريان و روند بازار.
– دارابودن يك فرايند مديريتي عمل‌گرا براي توسعه و اجراي برنامه قيمت‌گذاري.
– انجام يك برنامه قيمت‌گذاري صحيح كه تمايل به تعهد در فرايند قيمت‌گذاري داشته باشد.
محققان معتقدند كه براي داشتن يك برنامه قيمت‌گذاري مناسب براي شركت بايد 7 مرحله اصلي و اساسي
پشت سر گذاشته شود (دلان و سيمون، ص 326).
مرحله اول- داشتن يك خلاصه از استراتژيهاي قيمت‌گذاري:
خلاصه، شامل يك توصيف كلي از قسمتهاي مختلف سازمان است و يك بيانيه قيمت‌گذاري كه اهداف و استراتژي شركت را به‌صورت شفاهي بيان مي‌كند و تمايل دارد براي مدير اين نكته را بديهي سازد كه چگونه شركت مي‌تواند قيمت‌گذاري خود را برمبناي اهداف سالانه خود بيان كند.
مرحله دوم – بررسي وضعيت قيمت‌گذاري فعلي شركت:
در اين مرحله جزئياتي از سياستهاي قيمت‌گذاري كلي شركت تعيين مي‌شود.
مرحله سوم – قيمت‌گذاري برمبناي تجزيه و تحليل نقاط ضعف، قوت، تهديدات و فرصتها:
در اين مرحله قيمت براساس تجزيه و تحليلي كه بسيار كلي و جامع است صورت مي‌گيرد. تعيين نقاط قوت در توانمندسازي شركت براي حفظ سهم بازار و موقعيت سودآور بسيار مهم است.
مرحله چهارم – تعيين استراتژي قيمت‌گذاري:
اين قسمت اشاره به اين موضوع دارد كه بايد بازار هدفي كه قرار است استراتژي قيمت‌گذاري براي آنها تعريف شود مشخص و نوع استراتژي نيز با دريافت اطلاعات از ساير سيستمهاي سازمان تعيين شود.
مرحله پنجم – تعيين اهداف قيمت‌گذاري:
در اين قسمت بايد هدف از قيمت‌گذاري مشخص شود. اين مطلب مي‌تواند بدين‌گونه مشخص شود كه نرخ بازگشت سرمايه در سال آتي چقدر باشد؟ نرخ نفوذ در بازار چند درصد تعيين شود؟
مرحله ششم – مشخص‌كردن برنامه قيمت‌گذاري:
اين قسمت مي‌تواند شامل توصيف محصولات خاص و يا خطوط توليد محصول باشد كه هردو با نوسانات قيمت مي‌تواند افزايش و يا كاهش يابد.
مرحله هفتم – كنترل قيمت و بازنگري آن
قدم نهايي ايجاد مجموعه اقدامات كنترلي براي موفقيت قيمت‌گذاري است. كنترل مي‌تواند هفته به هفته و يا ماه به ماه بر بازار هدف، سود كالا، سهم بازار صورت گيرد.
نتيجه‌گيري
لازم است كه مديران امروز مساله قيمت‌گذاري و تعيين قيمت را به‌عنوان يك مرحله استراتژيك و نه به‌عنوان يك تصميم خودكار و سريع مدنظر داشته باشند. نداشتن يك استراتژي مناسب قيمت‌گذاري مي‌تواند به فروش كمتر، از دست دادن مشتري، سهم بازار كمتر و كاهش سود منجر شود.
براي داشتن استراتژي مناسب و دستيابي به سود بيشتر نياز به تغيير فرهنگي در سازمان است. امروزه ضرورت تعيين قيمت مناسب براي مديران به‌عنوان برنامه استراتژيك مطرح شده است.
منابع
1 – KOTLER 2002 "PRINCIPAL OF MARKETING – TEN THE EDITION.
2 – RICHARD LANCIONI 2005 "PRICING ISSUES IN INDUSTRIAL MARKETING.
3 – RICHARD LANCIONI 2004 "A STRATEGIC APPROACH TO IN DUSTRIAL PRODUCT PRICING.
4 – CHRISTOPHER, M, G (2005) SUPPLY CHAIN COST MANAGEMENT & VALUE – BASED PRICING.
5 – DOLAN. R & SIMON, (1996) POWER PRICING HOW MANAGING PRICE TRANSFORMS THE BOTTOM LINE.
_ دكتر حميدرضا سعيدنيا: عضو هيئت علمي دانشگاه آزاد اسلامي، واحد تهران شمال
_ مهندس بني اسدي: دانشجوي كارشناسي ارشد مديريت بازرگاني دانشگاه آزاد اسلامي، واحد علوم و تحقيقات
http://www.imi.ir/tadbir/tadbir-176/article-176/9.asp
دكترحميدرضا سعيدنيا       مهدي بني اسدي
مطالب مرتبط
استراتژی‌های بازاریابیاستراتژی‌های بازاریابی پنج استراتژی که در طراحی برنامه بازاریابی رابطه‌مند مورد توجه قرار می‌گیرد؛ به شرح زیر می‌باشد. این استراتژی‌ها ‌مستقل از یکدیگر نیستند، می‌توانند به طور ترکیبی یا جداگانه ...
ادامه ی مطلب
مانند کسی نباشید که قیمت همه چیزرا می داند ولی ارزش هیچ چیز را نمی داند(اسکار وایلد)مانند دیگر جنبه های مدیریت قیمت گذاری و بازاریابی تلفیق هنر و دانش است.علیرغم ...
ادامه ی مطلب